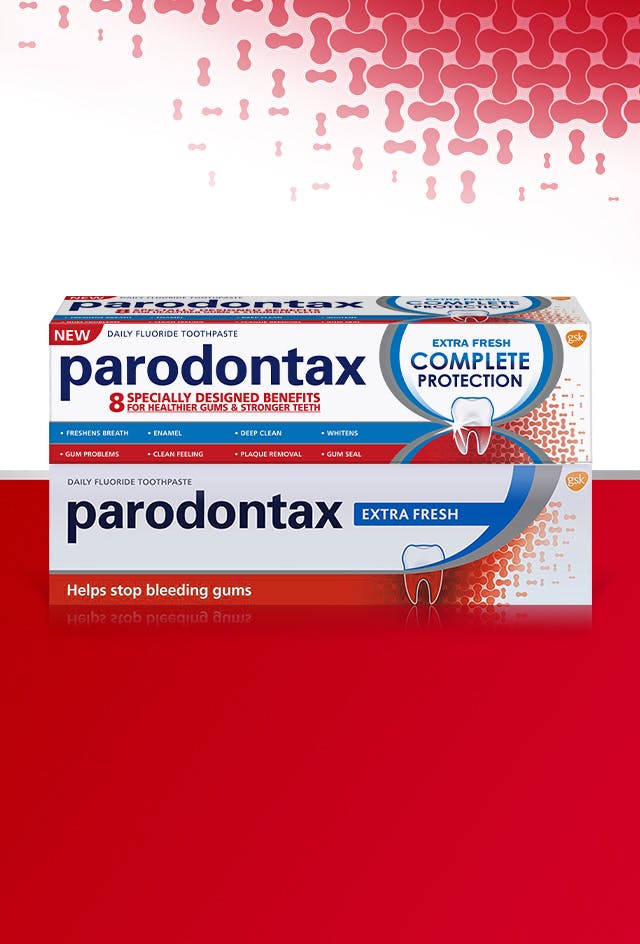 DAILY TOOTHPASTE
See the range below
HELP PROTECT YOUR GUMS WITH PARODONTAX
Healthy gums don't bleed, so if you see any blood when you brush or floss your teeth, this can be a sign of gum disease. If left untreated the problem could get worse, leading to bad breath, red and swollen gums, receding gums and eventually even tooth loss.
By physically removing the build up of plaque bacteria along the gumline, parodontax toothpaste helps to keep the seal between gums and teeth tight and it is 4x more effective* than a regular toothpaste at removing the main cause of bleeding gums. When used twice daily it is clinically proven to help stop bleeding gums.

*Compared to regular toothpastes, following a professional clean and twice daily brushing. This does not apply to parodontax Whitening.
NEW PARODONTAX HERBAL FRESH TOOTHPASTE IS CLINICALLY PROVEN TO HELP STOP & PREVENT BLEEDING GUMS**
**With twice daily brushing.
NEW PARODONTAX COMPLETE PROTECTION FOR HEALTHIER GUMS AND STRONGER TEETH
Taking good care of your gums is vital as healthy gums provide the foundation for strong teeth. You also need to keep teeth clean to help preserve their natural whiteness. The best way to help keep your teeth and gums healthy is brushing for two minutes, twice a day with a toothpaste that helps to protect your gums and teeth.
parodontax Complete Protection is a NEW daily toothpaste with 8 specially designed benefits for healthier gums and stronger teeth.
parodontax Complete Protection toothpaste is available in two varieties including Extra Fresh and Whitening.
PARODONTAX DAILY TOOTHPASTE HELPS STOP BLEEDING GUMS
If you spit blood when you brush or floss, it can be a sign you have gum problems. parodontax Daily toothpaste is a specialist toothpaste specifically designed to help keep gums healthy and help put a stop to bleeding gums.
parodontax Toothpastes (except Original) contain 1400ppm fluoride to strengthen teeth, alongside sodium bicarbonate to help remove plaque. It may take you up to 14 days** to get accomodated to the taste.*** The taste can take a while to get used to, but most people soon grow to like it as much as regular toothpaste and enjoy the clean feeling it delivers. Used everyday, it helps keep gums healthy, teeth strong and breath fresh.

parodontax Toothpaste is available in 8 varieties including Fluoride, Ultra Clean, Whitening, Extra Fresh, Original, Complete Protection Extra Fresh, and Complete Protection Whitening so you can choose the one that's perfect for you.****

Complete your oral care routine with parodontax Daily Mouthwash and the parodontax Daily Toothbrush.

**Removes more plaque bacteria than a regular toothpaste, following a professional clean and twice daily brushing.

***Individual results may vary.

****May vary based on local market conditions
Instructions for use
Brush twice a day and not more than three times, minimise swallowing and spit out. If irritation occurs discontinue use. Not suitable for children under 12 years. Keep out of reach of children. If using parodontax Original on a continuous basis please seek advice from your dentist.