PARODONTAX DAILY GUM CARE MOUTHWASH, 300Ml
Product Benefits
Scientifically proven to keep gums healthy
Targets plaque bacteria that brushing leaves behind
Works between the teeth & around the gum line
Fluoride strengthens teeth
Added fresh breath protection
Alcohol Free
Also available in Extra Fresh flavours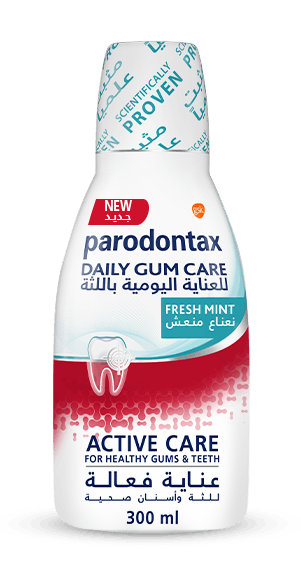 INGREDIENTS
parodontax Daily Gum Care Mouthwash Fresh Mint includes the following ingredients: Aqua, Glycerin, SLS (0.5%w/w), PEG-60 (0.5%w/w), Sodium Citrate (0.5%w/w), Aroma, Methyl paraben, Propyl paraben, Zinc chloride, Gellan Gum, o-cymen-5-ol,Sodium Fluoride, Sodium Saccharin, Cl 17200
WHY CHOOSE PARODONTAX DAILY GUM CARE MOUTHWASH?
Make parodontax Daily Gum Care Mouthwash part of your every day oral health routine, to help keep your gums and teeth healthy. Even if you already use a mouthwash as part of your daily routine, you may want a mouthwash that is specially formulated to protect your gum health. Many mouthwashes only freshen breath, others may also work to strengthen teeth, but adding a mouthwash for gum health to your daily routine can help keep your whole mouth healthy.
TARGETS
3X MORE BACTERIA*
*That may cause gum problems
vs brushing alone
PROVIDES FRESH
BREATH PROTECTION
HOW TO USE MOUTHWASH AS PART OF YOUR DAILY ROUTINE
Daily mouthwashes can offer many benefits. Many freshen breath and others help to keep teeth healthy. Some specialist washes are formulated to provide more benefits than regular washes so they can also help to keep gums healthy or relieve sensitivity. To find out how to use a daily mouthwash you should follow the instructions on the pack label to make sure you are using it as directed.
You can also ask your dentist for advice on when to use mouthwash as part of your daily oral health routine.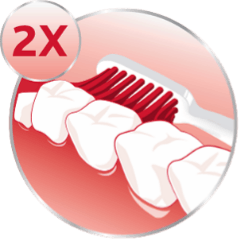 USE TWICE DAILY AFTER BRUSHING YOUR TEETH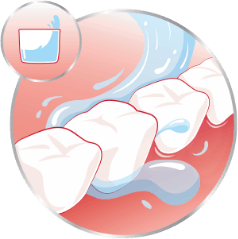 RINSE FOR ONE MINUTE WITH 10 mL OF MOUTHWASH AND SPIT OUT